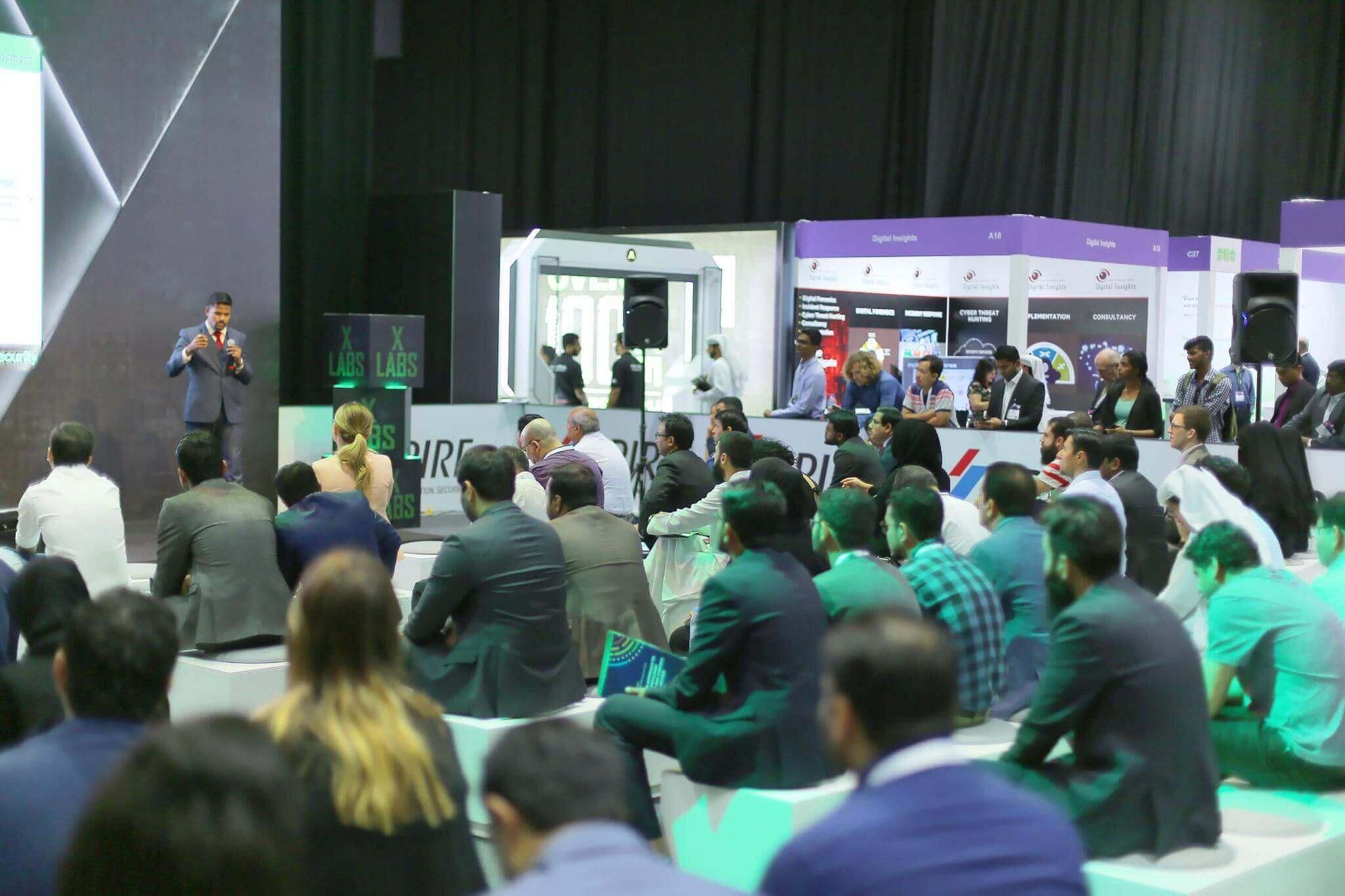 THE MOST INFLUENTIAL AND CONNECTED CYBERSECURITY EVENT FOR THE ARAB WORLD
GISEC is the region's most established and influential cybersecurity and cybertech exhibition and conference truly representing the Arab world. Established in 2012 the exhibition and conference has grown immensely to become the region's most sought-after business enabler and sourcing platform for the worldwide cybersecurity community and governments end-users.
A top priority event on the cyber tech calendar for the entire cybersecurity ecosystem incl. CISOs and CIOs of global brands, internationally-renowned hackers, cybersecurity trailblazers and technology providers looking to expand and strengthen their presence in influential buyer markets of the UAE, Saudi Arabia, Bahrain, Kuwait, Egypt, Nigeria, India, Pakistan and other countries.
GISEC is strategically organised in close partnerships with the country's most powerful government entities to curate and prioritise cybersecurity agendas of the region, including UAE Cyber Security Council, Dubai Electronic Security Centre, Dubai Police, Telecommunications Regulatory Authority (TRA), Smart Dubai, Investment Corporation of Dubai, ADNOC Refining, aeCERT and Spire Solutions.
GLIMPSE OF GISEC 2020 IN A GO
ALL THINGS CYBERTECH AT GISEC
GISEC 2021 CONFERENCE FRAMEWORK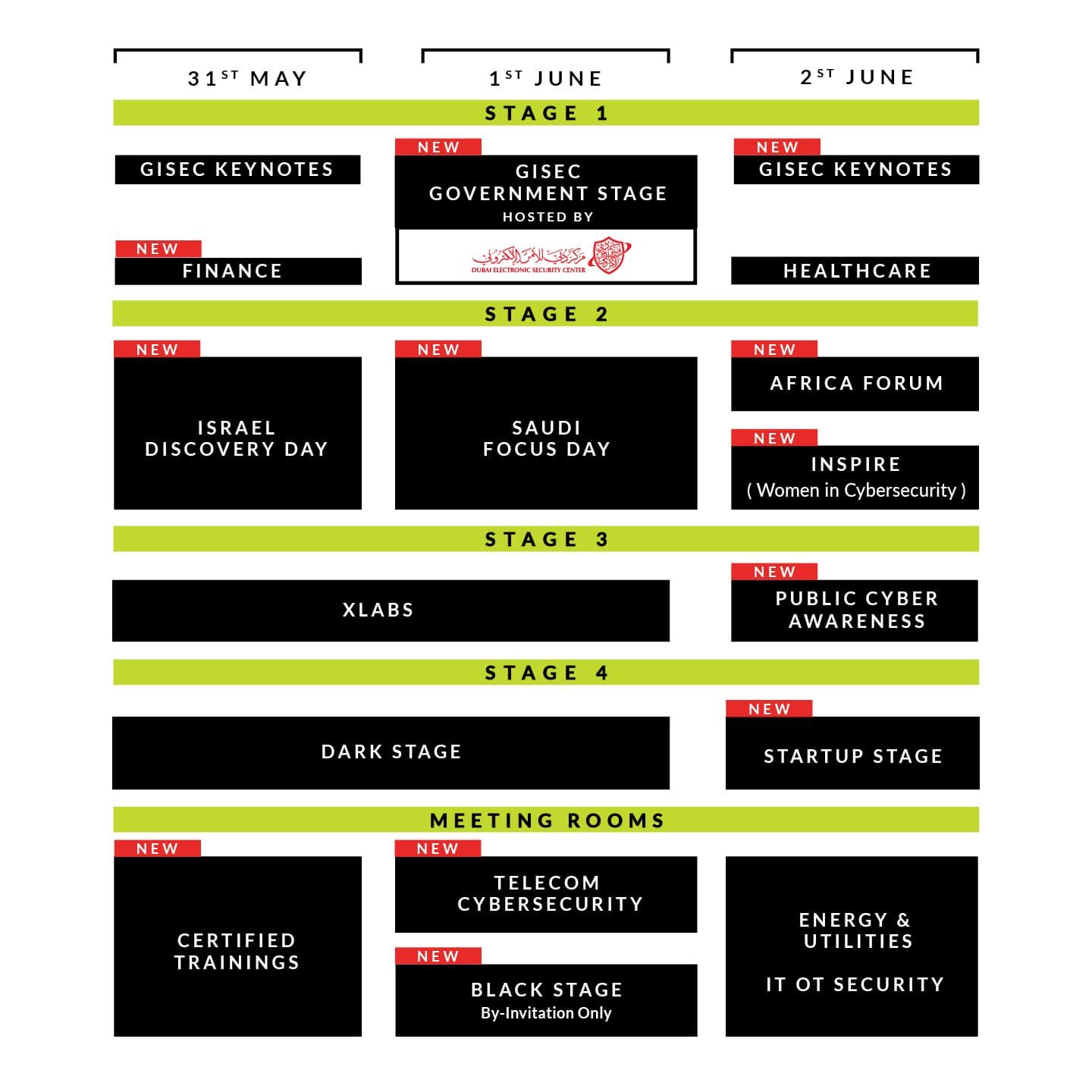 GISEC MAIN STAGE
The world leaders in cybersecurity meet to discuss the future....
A strategy and policy driven stage led by a stellar lineup of Global CISO's setting trends at some of the world's most iconic companies, intelligence briefings on new threats from major international security agencies, Government authorities & Public and Private sectors who bring to the table, top of mind cyber issues and initiatives
SAUDI FOCUS DAY
Cyber-security is expected to be among the fastest growing sectors in Saudi Arabia
Saudi Arabia is certainly one of the highest potential and most sought after markets by international cyber security solution providers its market value is anticipated to reach SAR19.12 billion (USD5 billion) by 2022, revealed a new report by the US-Saudi Arabian Business Council.
INSPIRE
Bringing together World's top female cybersecurity trailblazers to GISEC 2021
EXPLORE THE 2020 SHOW IN A GO [VIDEOS + PHOTOS]
HEAR FROM THE INDUSTRY
GISEC is the most important and influential Cybersecurity event in the Arab World. Our members and us look forward to our participation in 2021.

GISEC is one of the best networking and knowledge sharing event to meet visitors from not only UAE but also countries like Saudi Arabia, Kuwait, Bahrain, Oman and the wider African region.

GISEC has always been a key moment for the security community for many years. We look forward to being part of it again this year.

There has never been a greater need to do comprehensive planning than now … putting tougher a one-to-three year plan on how to get the organization to a more secure state is a job worth doing today.

GISEC is one of the best networking and knowledge sharing event to meet trade visitors not only from UAE but also countries like Saudi Arabia, Kuwait, Bahrain, Oman and the wider African region.

We are proud to be part of the esteemed community of GISEC, which is the most established Cybersecurity show that brings together industry peers for the entire MENA region, Content is full of latest learnings and practices from world-class experts.